Active Life Fitness Training - St Croix Falls WI and Lindstrom MN

My Certifications
Certified Kettle Bell Instructor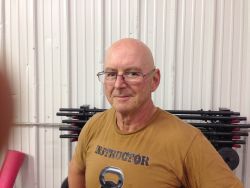 Kettlebells were developed in Russia and have a 400 year proven track record of building total body strength and total fitness. Proper form is very impotrant to prevent injury. In my classes proper form is the highest priority.
ISSA Certified Fitness Trainer
It's no secret - fitness training has been proven to prevent disease, strengthen your health and improve your confidence and outlook on life. As a certified fitness trainer, I'm deeply trained in everything from muscle mechanics to flexibility and cardiovascular dynamics. So if you want to live a stronger and more confident life, I've got the training and the expertise to help you every step of the way.
ISSA Specialist in Senior Fitness
Modern science has given us the ability to slow and even reverse the negative effects of aging. And study after study has shown that seniors are not only capable of real exercise, but can vastly improve their health, strength, mobility, and independence through exercise. As a certified specialist in senior fitness, I can help you set realistic goals for your health, and then enjoy achieving and exceeding them.