Dani Tupper

Welcome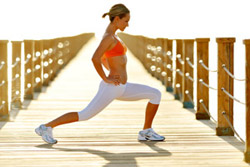 Welcome to my Website!
Summer is just around the corner! If you're motivated to get healthier and stronger, you've come to the right place.
As an ISSA-certified fitness professional, I can help you set realistic goals and transform your health and your life for the better. I can help you look your best, feel your best, and I can help you enjoy yourself and workouts along the way.
As well as being a ISSA CFT, I have also been a competitive boxer. For over 10 years I competed at a national level winning numerous fights and national competitions! I routinely followed a "real fighter's workout" and diet plan becoming one of the top 5 female fighters in the United States. Boxing is a great cardio workout and I often implement many techniques and exercises into my clients training program.
To get in touch with me, just click on "Contact Me" and send me a message or you can give me a call at (805) 448-4241.
Thanks for visiting, and have a great day.
Sincerely,
Dani Tupper
personal trainer certification